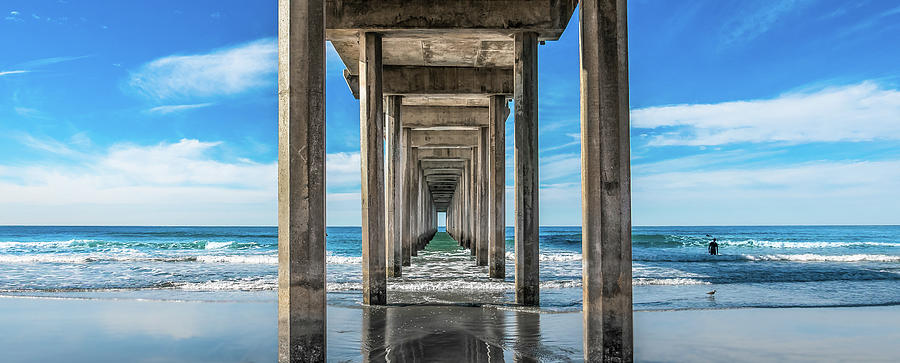 Title
Scripps Pier La Jolla California
Description
Scripps Pier in La Jolla, California. Scripps Pier is a historic landmark located in La Jolla, California. It is an iconic structure that juts out into the Pacific Ocean, providing a stunning view of the coastline and the sea. Built in 1916, Scripps Pier has a rich history and is an important site for oceanographic research and education.

The pier was originally built by the Scripps Institution of Oceanography, a research institution founded by Ellen Browning Scripps in 1903. The Scripps Institution is one of the oldest and most prestigious oceanographic research institutions in the world, and it has played a vital role in advancing our understanding of the ocean and its ecosystems.

The pier itself is 1,090 feet long and was initially built to serve as a platform for the collection of seawater samples for research purposes. Over the years, it has been used for a variety of scientific research projects, including studies of marine organisms, ocean currents, and wave patterns. Today, it is still used for research purposes by the Scripps Institution, as well as by other oceanographic research institutions and universities.

In addition to its scientific importance, Scripps Pier is also a popular spot for tourists and locals alike. The pier offers breathtaking views of the coastline, and it is a popular spot for photography, fishing, and walking. Visitors can take a stroll down the length of the pier, enjoying the ocean breeze and watching the waves crash against the pylons. At the end of the pier, there is a small observation deck that provides a panoramic view of the ocean and the surrounding coastline.

Scripps Pier is also an important site for education and outreach. The Scripps Institution offers a variety of educational programs and public events, including guided tours of the pier and the nearby Birch Aquarium. The institution also hosts a variety of community outreach events, including beach cleanups and citizen science programs, which allow members of the public to participate in ongoing scientific research projects.

Overall, Scripps Pier is a beloved landmark in La Jolla, California, and an important site for oceanographic research and education. It serves as a reminder of the importance of understanding and protecting our oceans, and it offers visitors a unique and unforgettable experience of the natural beauty of the California coast.
Uploaded
December 31st, 2015
Statistics
Viewed 2,704 Times - Last Visitor from Warrington, P2 - United Kingdom on 05/30/2023 at 2:08 PM