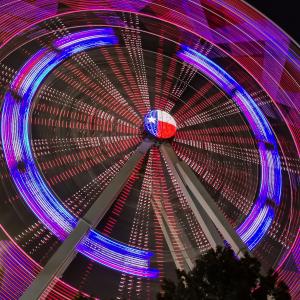 By ROSE BACA Follow @neighborsgo rbaca@neighborsgo.com

Neighborsgo
Published: 02 October 2014 03:59 PM
Updated: 09 October 2014 06:50 PM

About 150 images were submitted the first week of the official State Fair of Texas photo contest, but it was Robert Bellomy's photo of the Texas Star Ferris wheel that caught the eyes of our judges, making Robert's photo our Week 1 winner.

Our Week 1 celebrity judge Deborah Ferguson, who co-anchors NBC 5 Today on KXAS-TV, said Robert's image had a "wow reaction" that just screamed "Deep in the Heart of Texans," this year's state fair theme.

"That one gets my blue ribbon," Ferguson said.

Bellomy, a resident of Arlington, said he wanted to experiment with long exposures to capture light trails, and thought the Texas Star would be the best subject.

"Once I found a great vantage point, I set up my camera and tripod," said Bellomy. "I was pleased with the way this photo turned...